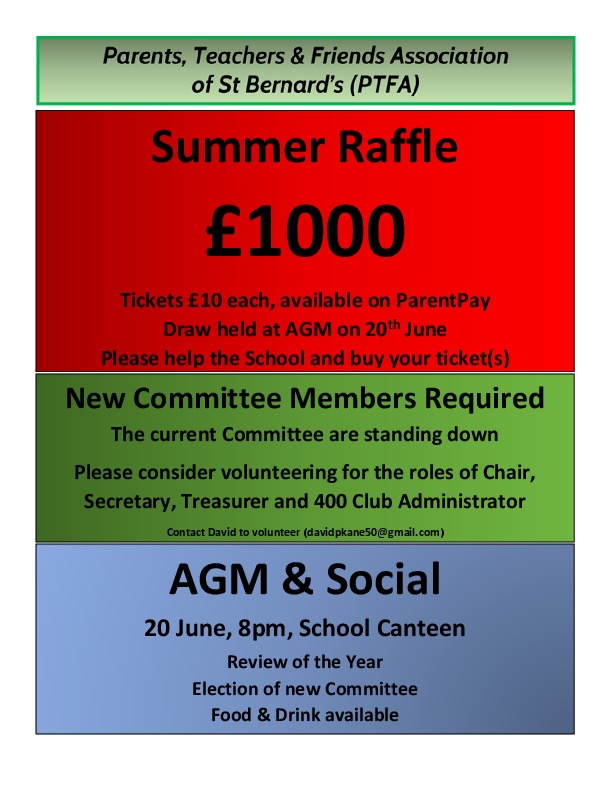 Welcome to St Bernard's Parent Teacher Association (PTFA).
The PTFA Committee is made up of parents and staff who organise social and fund-raising events to support and enhance opportunities for our children.
Last year the PTFA raised over £30,000 which helped to provide educational equipment, sports and leisure equipment and improved school facilities.
St Bernard's needs and appreciates the support of a strong and vibrant PTFA. The PTFA in turn, needs and appreciates the support of parents, carers, local businesses and the local community.
We arrange a variety of events each year, including the Year 7 Parents' Welcome Evening in September, the November Autumn Ball, the Christmas and Summer Fetes and a Quiz Night in February. Full details of event dates and times are available on the PTFA Website page.
Parental, company and community donations of raffle prizes, silent auction prizes, items for the various Fete stalls and company profit matching are vital to our fund-raising efforts and we appreciate your support in providing any of these.
We also organise a 400 Club, a limited entry draw, which contributes towards the maintenance of the School's Minibus. Further details of the 400 Club will shortly be available on the PTA Website page.
However, our purpose is not solely about fund-raising. Being part of the PTFA is a great way to take an active part in the School community. Parents and teachers working together in partnership is an important and fulfilling aspect of school life and is one that really does contribute to the vibrancy and success of St Bernard's Catholic Grammar School. Being an active member of the PTFA Committee is a great way to get to know other parents and members of staff who work together towards a common aim, the enhancement of opportunities for our children.
We encourage everyone to become involved and support the PTFA in whatever way you can and look forward to seeing you at any of our PTFA meetings or forthcoming events.
Please support your children's education by supporting your PTFA.
Thank you.
David Kane (PTFA Chair)